26. April 2023
Dominique Kreuzkam
Meet our employees
Learning to decide
An elongated, narrow room, on the left: A curved desk with five recessed monitors, keyboard, radio. Right: Another curved desk with five recessed monitors, keyboard, radio. A simulation of a nautical manoeuvre shimmers from the screens through a window, muffled voices can be heard in the instructor room of the NSBacademy: Strait of Malacca? Man overboard? Captain on the Bridge?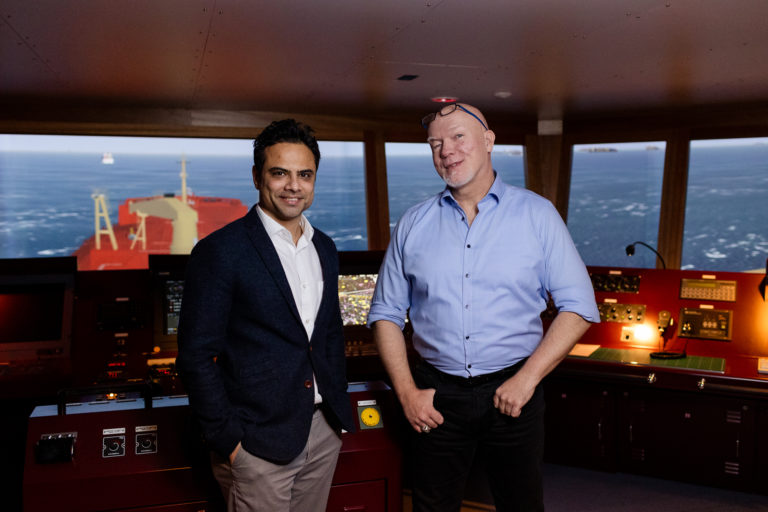 No, not a serious situation, it's just coffee break. That's why the metal songs are turned up a bit louder. The mood is good with Ankit Acharya and Morten Magnil. They run the NSBacademy courses and regularly train officers as well as finished and aspiring captains in the NSBacademy's two ship simulators.
"We act as one," says Morten Magnil, who himself went to sea as a captain at NSB. The native Swede laughs at his colleague Ankit Acharya. Ankit has been with the Academy as a coach since 2022. "Yes, we complement each other extremely well, especially during the trainings when we stand in front of the participants, there is always a good dynamic as a team."
Ankit, born in India, also went to sea as an officer, sailed on chemical tankers, but then decided to work on land and took the opportunity to study at the World Maritime University (WMU). Through NSB's partnership with WMU, Ankit came to Buxtehude, and he stayed.
Here he works with Morten Magnil in the NSBacademy. Morten went to sea until he suffered a serious accident on board and has been working on land ever since. "I can pass on my experience to the seafarers in the academy. Ankit can do that too, but he also brings a scientific framework, so the package is right in the end," he says. Morten loves metal music, he collects records and is passionate about attending live concerts. When there is time, he also plays guitar himself – "not good, but I play", as he says.
"Even though I listen more to jazz music than metal in my private life, the atmosphere in our 'band' is characterised by openness. We offer a private space where we can work on highly complex topics like bridge management at the same time. This has also helped me during the induction process," says Ankit. NSB is the first company he has worked for onshore. Morten adds, "We get good feedback from the seafarers from the trainings, they notice the atmosphere with us. They are experts at being far away from what they love. We create enough proximity here to convey our contents. Often the participants in the courses hardly know each other beforehand – but at the end they always exchange all their email addresses."
Especially for the captains, Morten Magnil is concerned with system knowledge, the overview, the keyboard of options for all conceivable situations. "We can practise all situations in the simulator again and again until it sits. At the same time, we teach 'environmental awareness', the professional view beyond the horizon, to understand even better what influences decisions have at different levels – and how to control them," say Ankit and Morten.
A central pillar of the philosophy of the two NSB trainers is the "human element", which is incorporated into many trainings and manoeuvres. "More than ever, a good mental and physical condition are elementary for seafarers. We also draw attention to this," says Morten, the father of three children. "We firmly believe that we have to be lifelong learners. We create the necessary atmosphere for this here. We have won when the participants say: that wasn't too bad, I'll go there again!"
Press Contact
NSB Communication Team
Dominique Kreuzkam (he/him) & Lina Wörner (she/her)